Transport

The original and most successful sector of business for Checkpoint products. Loose wheel nuts on commercial vehicles remain a genuine problem for drivers and fleet operators.
Mining
Rough handling and heavy vibration that occur when equipment and vehicles negotiate tough mining conditions, cause loose wheel nuts.
Agricultural
The agricultural sector is faced with the problem of loose wheels in exactly the same way as road going and mining vehicles.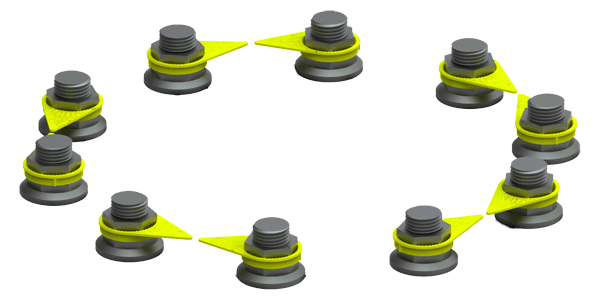 Fitting Checkpoint and adopting a procedural change requiring the driver to do a daily 'walk round' check of the vehicle and/or trailer, or to do a 'first use' inspection when they take over a different or new to them vehicle reinforces the safety, roadworthiness and maintenance schedules you operate.
Fortunately wheel loss occurs infrequently. Tyre, rim, hub and stud damage due to loose wheel nuts, happens more often. The fitting of Checkpoint facilitates a daily inexpensive check and reduces the possibility of avoidable and unbudgeted costs.
The early detection of a loosening wheel nut reduces the incidence of costly damage, unscheduled downtime and disruption.